Since 1995, the University of Rijeka awards the honorary doctorate (Gradus Doctoris Honoris Causa) of the University of Rijeka, the highest recognition awarded to prominent scientists and distinguished public figures for their special contribution of long-lasting significance to the University and the wider community in certain areas of science, culture, and arts. So far, the honorary doctorate has been awarded 8 times, to eminent scientists from Croatia and abroad.

The recipient of this year's honorary doctorate is Prof. Martin Paul, M.D., Ph.D., prominent scientist, professor of clinical pharmacology, Rector of Maastricht University and Chair of the YUFE Alliance. Madam Rector Prof. Snježana Prijić-Samaržija, Ph.D., appointed Prof. Marta Žuvić, Ph.D., Vice-Rector for Studies, Students and Quality Assurance, as the promotor.
These unprecedented circumstances in 2021 prevented the award ceremony. On behalf of the University of Rijeka, Madam Rector Prijić-Samaržija and her team extend sincere congratulations to Prof. Paul and thank him for his cooperation!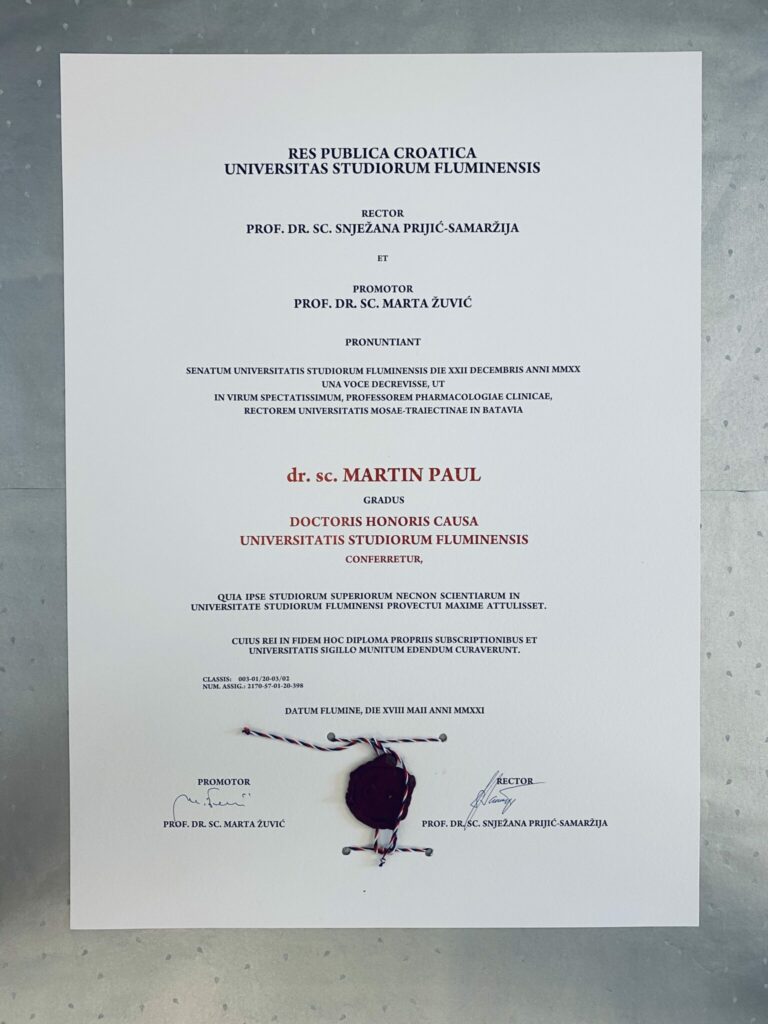 PROF.
MARTIN PAUL, M.D., Ph.D.
Maastricht University, the Netherlands
Professor Martin Paul was born on March 7, 1958, in St. Ingbert, Germany. He earned his M.A. degree in medicine (summa cum laude) and then earned a Ph.D. from the Heidelberg University, and during his studies spent two years as a researcher at the Department of Pharmacology, University of California, San Diego, USA. He has been the President of Maastricht University since 2011, and in 2019, he was elected President of the YUFE Alliance. As a board-certified clinical pharmacologist with more than 25 years of experience and extensive research on molecular medicine, clinical and experimental pharmacology, and cardiovascular disease, his work is continuously praised and thus funded by the European Commission, the German Ministry of Education, Research and Technology, and the German Research Foundation. He is the recipient of numerous prestigious prizes as well as two honorary doctorates from the University of Würzburg (Germany) and Lobachevsky State University (Russia). Throughout his professional career, he held numerous teaching positions in Germany, the US, and the Netherlands, and today is one of the world leaders in promoting academic health and is committed to improving health and well-being globally.